Ramadan is a time of tranquility and reflection, a time to connect with friends and family. Celebrate the holy month of Ramadan at the iconic and most recognized landmark of Qatar, Sheraton Grand Doha Resort & Convention Hotel.
Experience the full spectrum of Arabian hospitality while getting immersed in local traditions where we bring you the finest traditions in a setting of exquisite venues pairing intimate social gatherings and unparalleled culinary experiences.
Whether you are planning an intimiate Iftar or Suhoor to enjoy a traditional family-style dining or a corporate gathering in one of our venues, the arabesque setting at our Turath Ramadan Tent offers the perfect venue.
For reservations and inquiries, please call 974 4485 3000
Or email F&Breservations.doha@sheraton.com
Turath Ramadan Tent
Iftar 6:00 PM to 8:00 PM | Suhoor 9:00 PM - 2:00 AM
Experience the charm and elegance of an extravagant mansion of royalty reflecting the rich Qatari heritage with our unique Turath Ramadan Tent at Al Dafna Ballroom.
Rekindle your fond memories of breaking the fast daily with an Iftar meal or enjoy an intimate Suhoor at our Turath Ramdan Tent offering a unique experience of Qatari heritage.
Featuring live interactive cooking stations and palate pleasing flavors, drawing from the very best of oriental and international cuisines
Iftar Buffet - including soft beverages, tea/coffee QR 250 per person
Suhoor Buffet - including soft beverages, tea/coffee QR 200 per per person.
Suhoor Buffet - including hubbly bubbly, tea/coffee QR 250 per person.
50% discount for kids 6 - 12, below 6 years old free of charge
Kanoon performance 6:00 PM - 8:00 PM
Live Traditional Band performance 9:30 PM - 2:00 AM
Corporate Iftar & Suhoor
Iftar 6:00 PM - 8:00 PM | Suhoor 9:00 PM onwards
Ramdan is a time to gather and share the joy of the Holy Month through Iftar or Suhoor gatherings. Whether it is for your corporate meetings or company get-together with business partners, Sheraton Grand Doha is your ideal choice to celebrate the occasion with five-star setting, specialized service and delectable menu options.
Iftar Menu I QR 185 per person
Iftar Menu II QR 215 per person
Iftar Menu III OR 255 per person
Suhoor Menu I QR 215 per person
Suhoor Menu II QR 265 per person
*Available for minimum 50 guests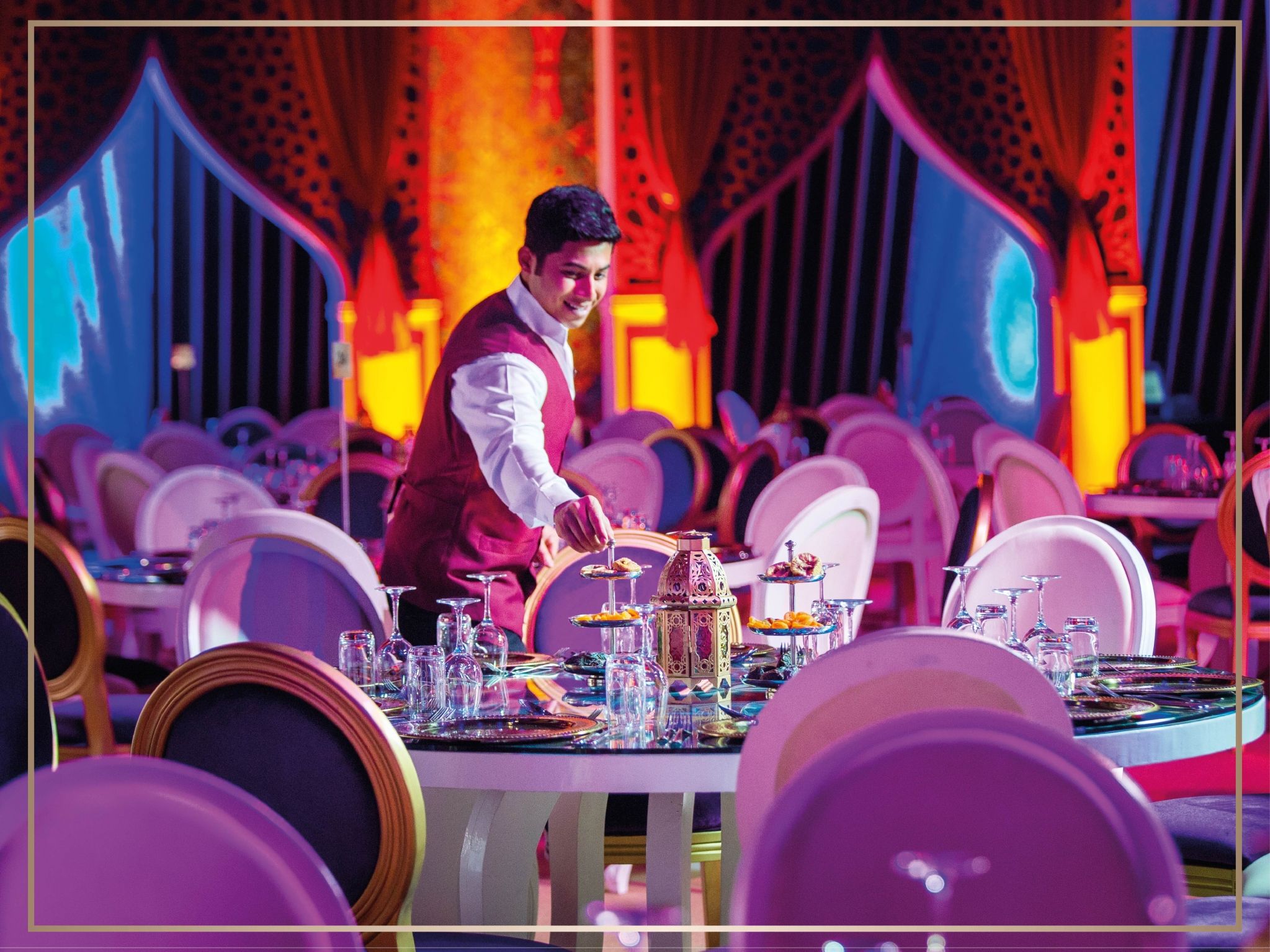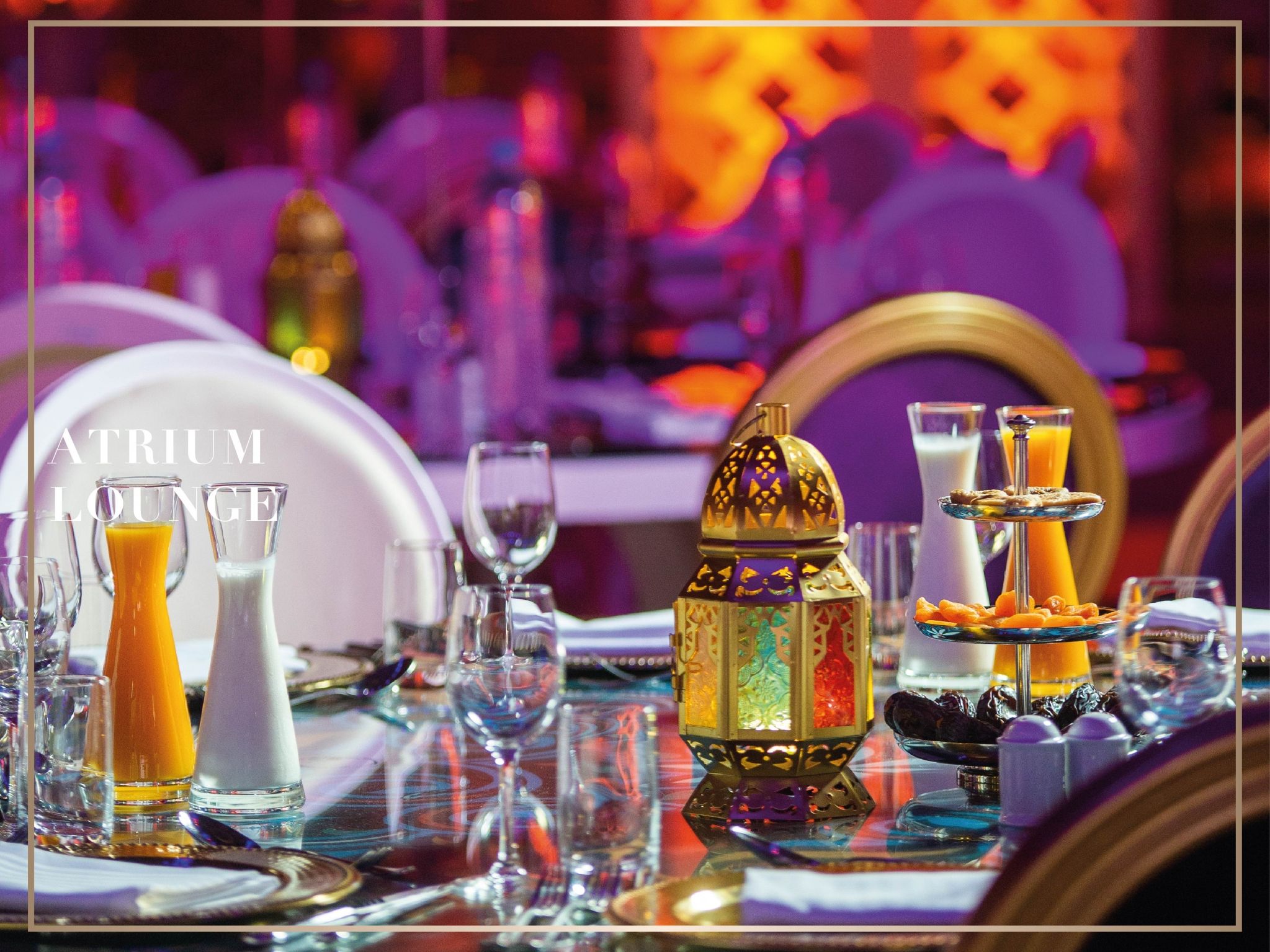 Atrium Lounge
6:00 PM - 2:00 AM
Relax and family and friends over casual conversations as you savor freshly roasted Arabic coffee, karak tea with saffron or your favourite Um Ali while the soulful strains of the Arabian Oud enrich your experience at the living room of Doha - Atrium Lounge
A la carte menu available
La Veranda
6:00 PM - 11:30 PM
La Veranda is the perfect place to experience an authentic taste of Italian cuisine. Serving delicious selections from Italian home cooking to pizzas baked in a traditional wood burning oven, all against a backdrop of magnificent sea view from outdoor garden terrace.
A la carte menu available
For reservations and inquiries please call 974 4485 3000