Deliciously Diverse Dining in Doha
Reconnect with friends, family and colleagues at one of our ten distinctly different food and beverage venues.
Our outdoor terraces with breathtaking views make for memorable conversations over a well-selected beverage.
Al Hubara Restaurant
The hotel's all day dining venue, Al Hubara serves international cuisine with a la carte and daily buffet options for breakfast, lunch and dinner. The dinner buffet ranges in theme from a carvery to seafood to Oriental and more.
Breakfast Buffet: 6:00 AM – 10:30 AM (until 11:00 am Friday and Saturday)
Lunch Buffet: 12:00 PM – 3:30 PM (until 4:00 PM on Friday)
Dinner Buffet: 7:00 PM – 11:30 PM
Friday Brunch: 12:30 PM – 4:00 PM
Friday Dinner: 7:00 PM – 11:00 PM
Saturday Lunch: 12:30 PM – 4:00 PM
Irish Harp
Offering the city's largest selection of draughts, choose your favourites as you catch up with friends or the latest sports action on one of the 12 large TV screens. Discover a little bit of Ireland right here in Doha with its dining menu that included Irish favourites.
Opening Hours: 5:00 PM - 2:00 AM
Dinner: 5:00 PM - 12:45 AM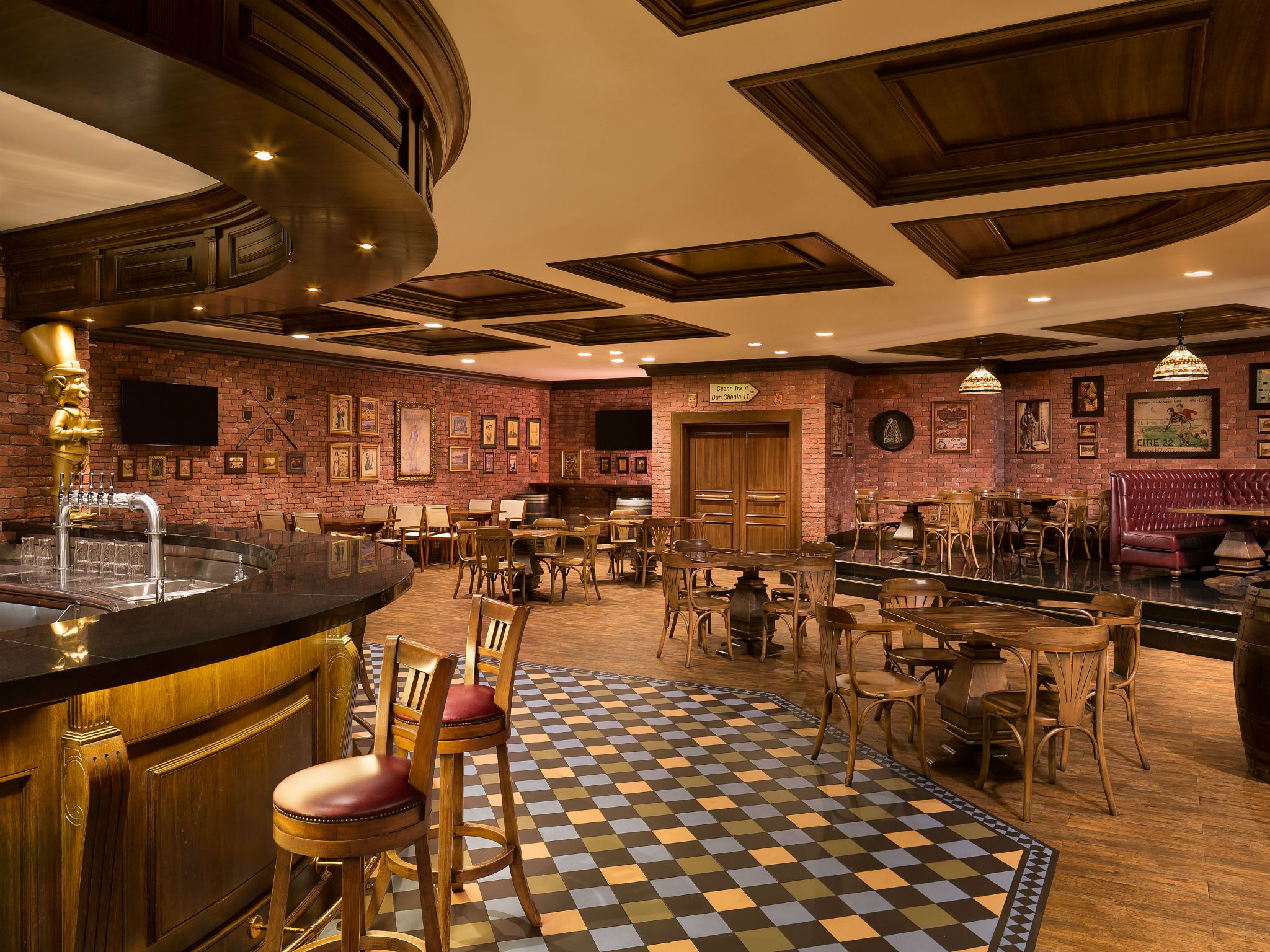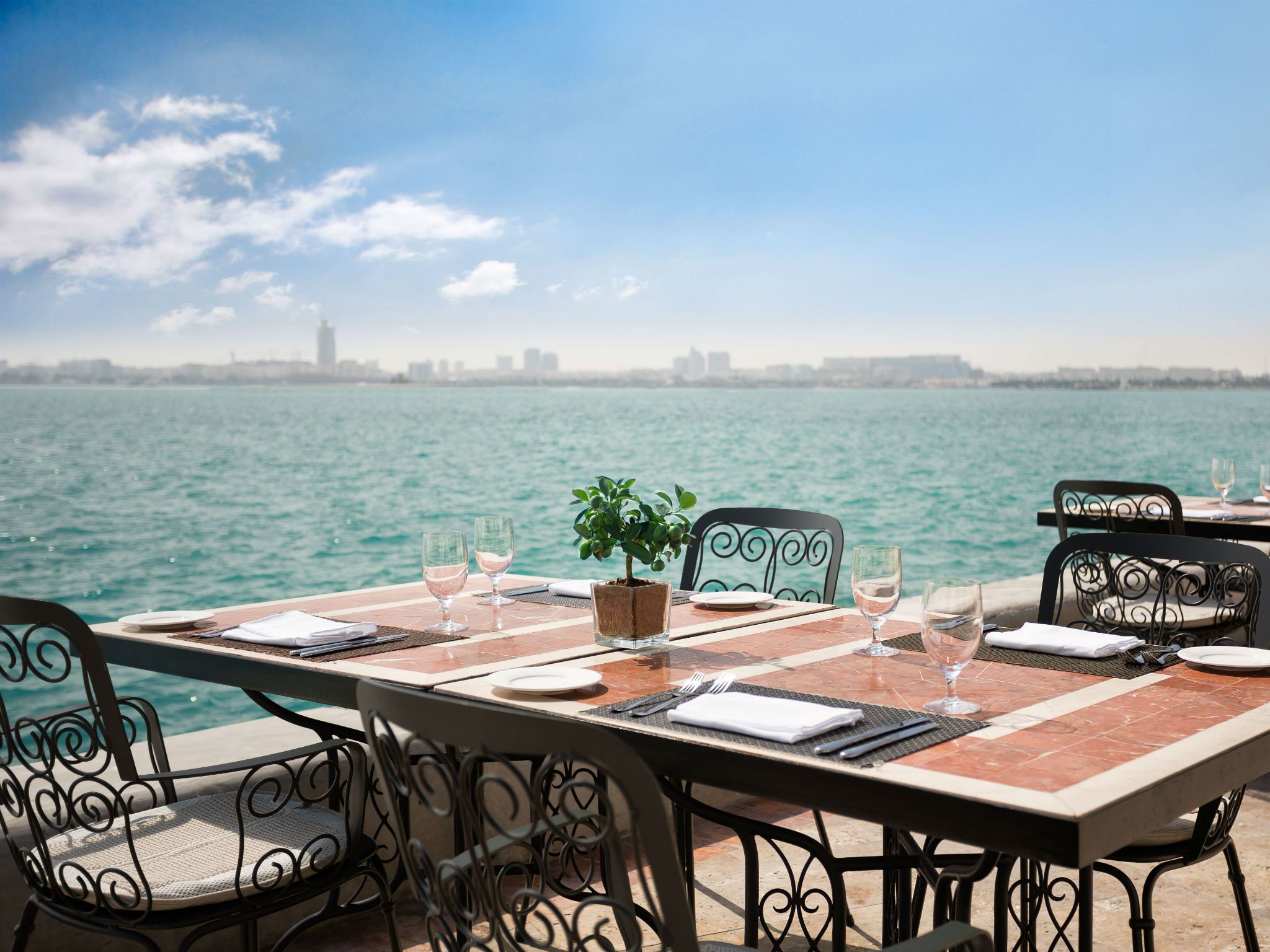 La Veranda Italian Restaurant
The original Italian restaurant in Doha, La Veranda is the perfect place to experience an authentic taste of Italian cuisine. Serving delicious selections, from Italian home cooking to pizzas baked in a traditional wood burning oven, all against a backdrop of a magnificent sea view on the unique outdoor terrace.
Business Lunch: 12:00 PM – 3:00 PM
Friday Brunch: 12:30 PM – 4:00 PM
Dinner: 7:00 PM – 11:30 PM

Allegria Bar
Boasting trendy design, this venue gives you the option of a guilt-free indulgence. Recharge after time at the gym and allow us to help you eat healthy.
Opening Hours: 7:00 AM – 11:30 PM
Atrium Lounge
A casual lounge that offers light meals in a charming setting is the preferred venue in Doha for connecting with colleagues, business partners or friends over freshly brewed coffee, refreshing beverages and baked sweets and savouries.
Through the day, enjoy live music.
Opening Hours: 8:00 AM – 2:00 AM
Afternoon High Tea: 2:00 PM – 9:00 PM
Breakfast: 10:00 AM - 1:00 PM
Express Lunch: 1:00 PM - 4:00 PM
Pool Café
The Pool Café is a perfect choice when you're in the mood for a relaxed lunch or dinner, surrounded by stunning views of lush, landscaped gardens and crystal-blue waters of the Arabian Gulf.

Opening Hours: 10:00 AM – 7:00 PM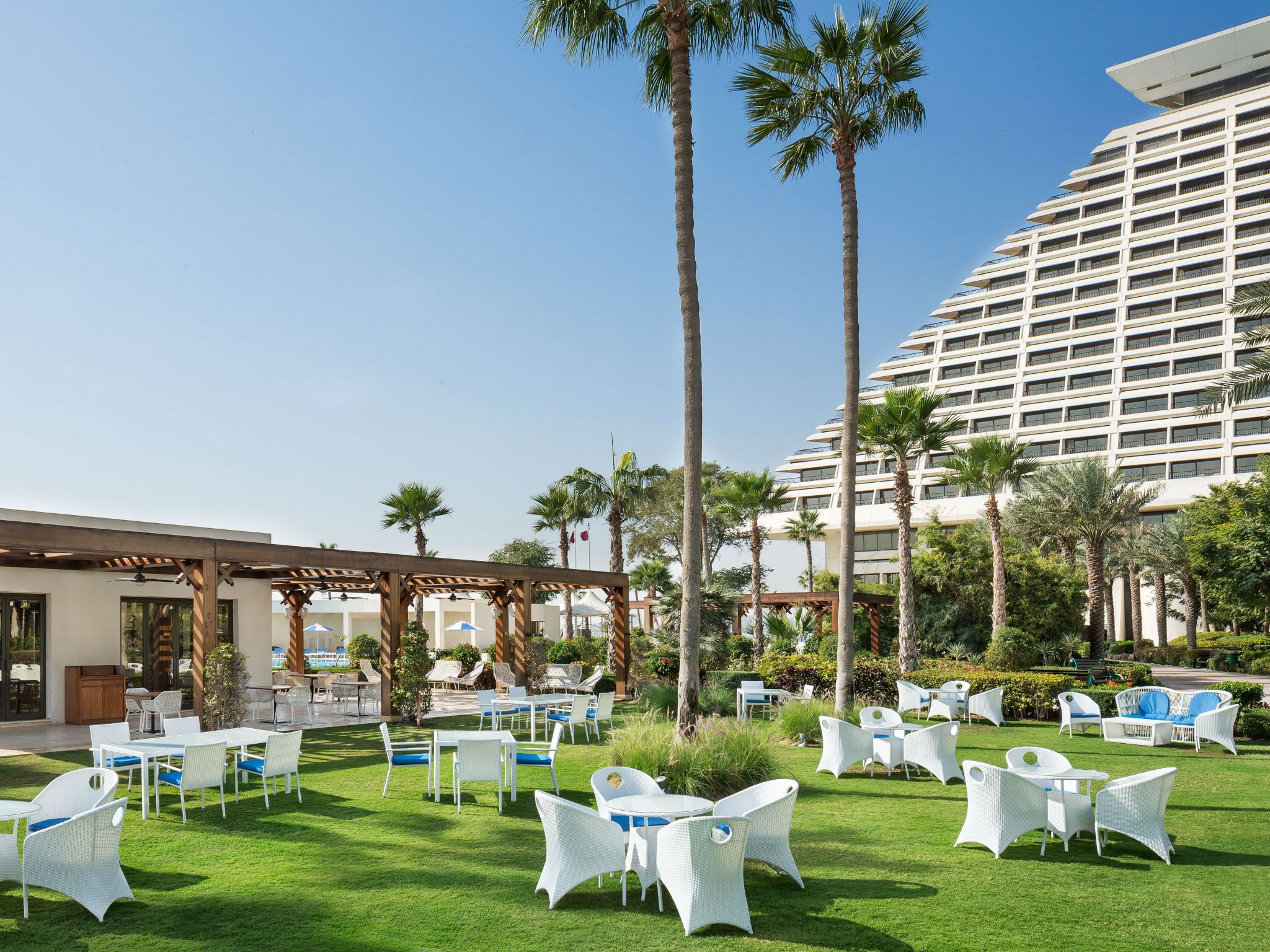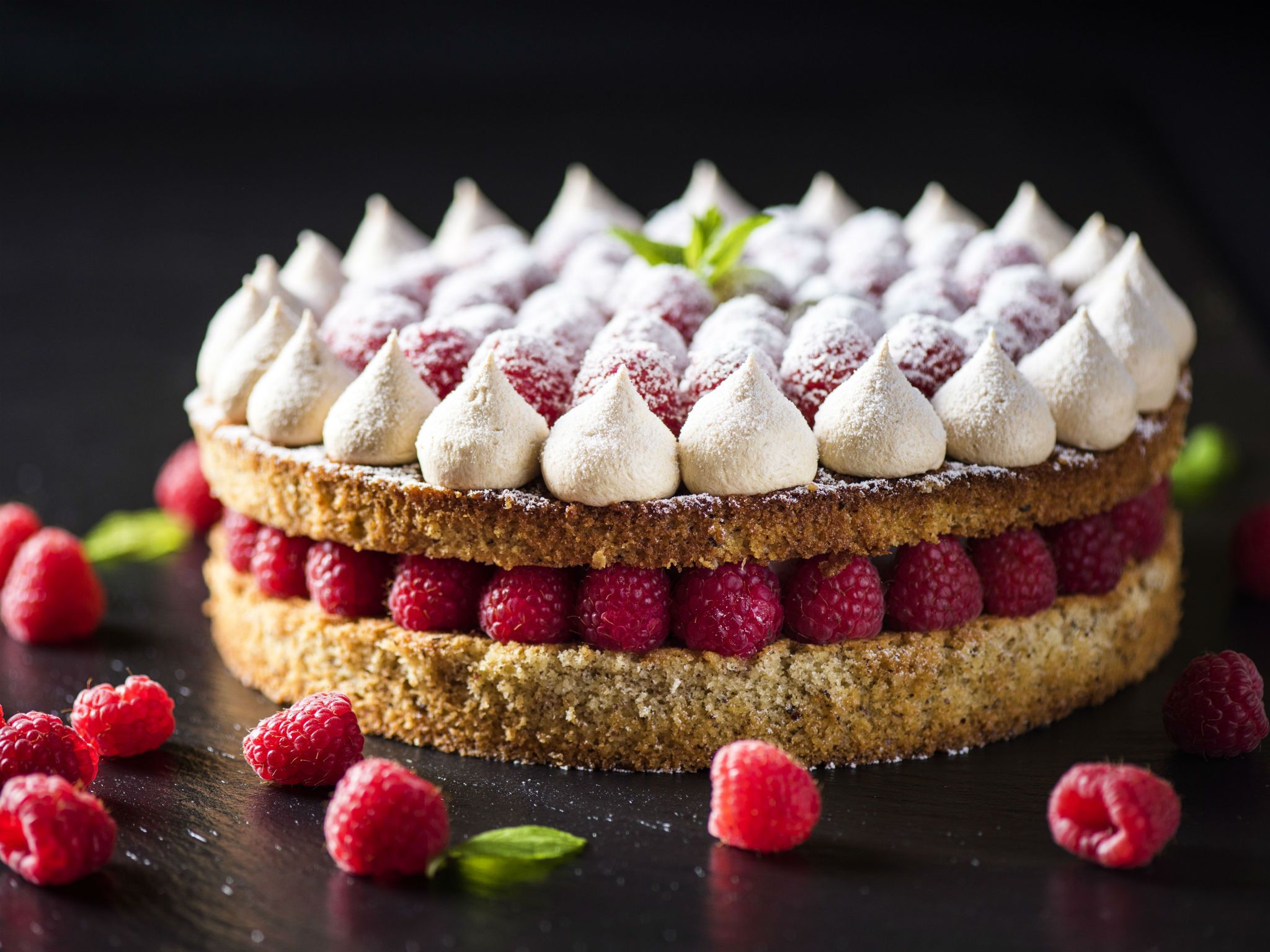 Pastry Shop
Located next to Al Hubara, Sheraton Grand Doha Pastry Shop offers creative cakes, pastries, croissants, tarts, macaroons and cookies – all catering to those sweet and savoury cravings as a takeaway. Best known for its signature chocolate cake and its second to none Um Ali, the venue also caters to large orders for special occasions.
Opening Hours: 10:00 AM – 10:00 PM
LaLiga Lounge
Experience the most thrilling football match-ups played out in LaLiga Lounge, where passion for the game is our mantra. Watch the most exciting moments of your game pulse through the big screens with dozens of high tech displays. The menu itself is a selection of typical Mediterranean cuisine with strong Spanish influence and comfort foods all prepared by the Spanish Chef Juan. Conveniently located by Hotel Park in the heart of the city's West Bay district, the energy at LaLiga Lounge is amplified during any big game.
Lunch: 12:00 PM - 12:00 AM
Dinner: 5:00 PM - 12:00 AM
Special Beverages: 5:00 PM - 12:00 AM
Happy Hours: 5:00 PM - 8:00 PM everyday
Nusr-et Steakhouse
Nusr-et Steakhouse is the one and only address for meat lovers since its opening and continues to be different and special with its rich food offerings, warm atmosphere and top notch service.
Opening Hours: Daily: 12:00 PM - 12:00 AM
Em Sherif Restaurant
Em Sherif restaurant offers unique, authentic Oriental cuisine which brings back forgotten traditional flavors, providing its guests with an unsurpassed first class dining experience and a daily live Arabic entertainment. It is designed to represent an antique oriental mansion, lavish with luxury and Em Sherif's own personal touch, as well as by its Homely atmosphere where invitees are offered a world class set menu.
It is distinguished by its variety dish offerings that promise to surprise clients' palette, its wide selection of mezze and food, its refined service and its elegant decoration. Em Sherif herself carefully takes food and service supervising matters into her own hands, and makes sure clients are served delicious food that is adoringly cooked daily with the freshest and highest quality products.
Lunch: 1:00 PM - 4:00 PM
Dinner: 8:00 PM - 12:00 AM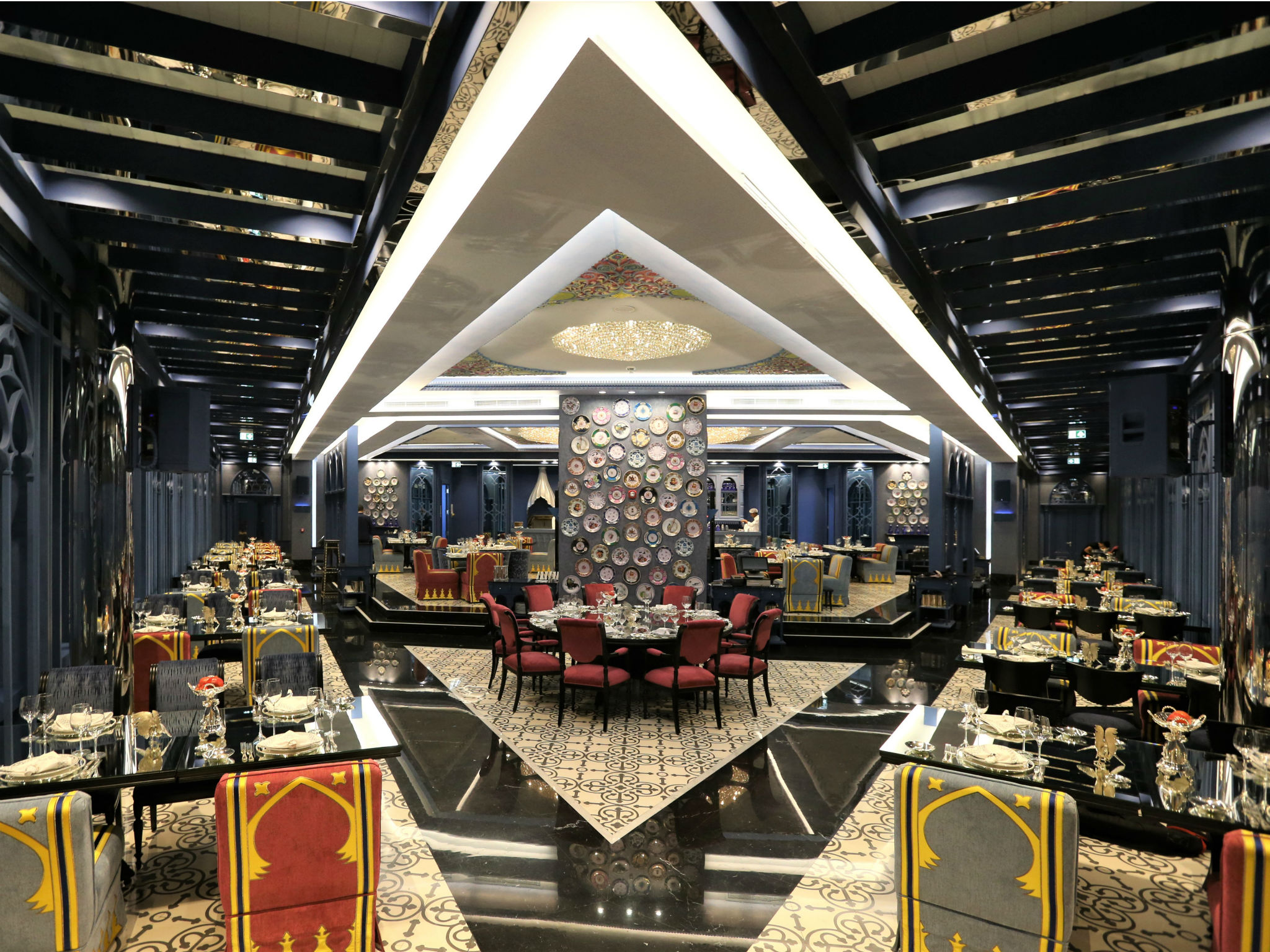 For reservations & inquiry, please contact us at:
974 4485 3000 or email us at F&Breservations.doha@sheraton.com